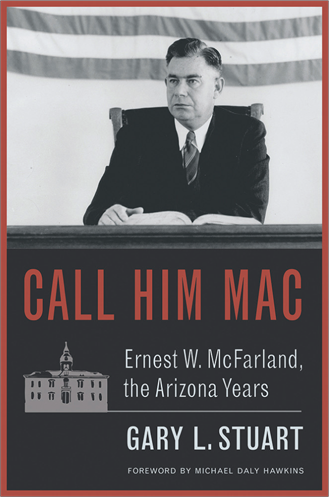 Call Him Mac: Ernest W. McFarland, The Arizona Years
The story behind an Arizona legend
All of us who love Arizona are indebted to Gary Stuart for his very moving story of "Mac's" early years and his engagement with virtually every significant issue from the beginning to near the end of the 20th Century, noting he was a "political star in Washington (including his role as "father" of the G.I. Bill) while retaining his very personal touch to all Arizonans as "a man of the people, by the people, and for the people."
Lattie F. Coor, Ph.D., President Emeritus and Professor of Public Affairs, Arizona State University

The political life of Ernest W. McFarland—lawyer, judge, senator, governor, Supreme Court justice, and businessman—is well documented. Less well known is his life as a family man, country lawyer, rural judge, and visionary.
In Call Him Mac, Gary L. Stuart renders a nuanced portrait of a young, ambitious, restless, and smiling man on the verge of becoming a political force on his way to the highest levels of governance in Arizona and America. Stuart reveals how Mac became an expert on water law and a visionary in Arizona's agricultural future. Using interviews with friends and family and extensive primary source research, Stuart spotlights Mac's unerring focus as a loving husband, father, and grandfather, even in times of great personal tragedy. Mac's commitments to his family mirrored his sense of fiduciary duty in public life. His enormous political successes were answers to how he dealt with threats to his own life in 1919, the loss of his first wife and three children in the 1930s, and a political loss in 1952 that no one saw coming.
Stuart writes the little-known story of how Arizona's culture and citi­zens shaped this energetic, determined, likable lawyer. The fame Mac cre­ated was not for himself but for those he served in Arizona and beyond. Mac's unparalleled political success was fermented during his early Arizona years, the bridge that brought him to his future as an approachable and lik­able elder statesman of Arizona politics.
Arizona isn't Arizona without Ernest McFarland. The man known as "Mac" is remembered as the Father of the G.I. Bill and an early proponent of what became the CAP, but beyond the many decades of service to the state and the country is an Oklahoma farm boy who adopted Arizona early on and let the state adopt him.
Despite having served six decades at the highest levels of public service in Arizona, Ernest McFarland is often overlooked as a major political workhorse who helped shape our state—and nation.   His accomplishments overshadow his fame: the G.I. Bill, the Central Arizona Project, and the Arizona State Parks system, just to name a few. Stuart's new book presents fresh insights about McFarland, an extraordinary individual who overcame illness and tragedy to accomplish, gracefully, so much vital work.
Mac has had an unseen hand in making my lifelong professional dream come true. "Cowboy Judge" Mac rode in the annual rodeo parade and sparked this kid's dream about reliving Old Arizona. Senator Mac helped write the GI Bill that paid the tuition for my architecture degree dream. Governor Mac created the Arizona State Parks where I fulfill my historical architect dream by restoring iconic buildings to tell inspiring stories. When Mac's grandchildren asked my son and me to design his memorial on the State Capitol Mall, it seemed natural to honor this humble hero for helping make others' dreams come true. Just as a biographer recounts a remarkable story in words and pictures, we created an architectural fanfare for the common man in concrete and steel celebrating Ernest W. McFarland and the American Dream.  Thanks, Mac.
His dream was justice. His path was law. His legacy is opportunity.
A former rural Arizona county judge, Mac was courteous, fair, impartial, and admired, something rarely seen in American politics today. In Washington he was liked and respected by his colleagues on both sides of the aisle. Mac was born on a small farm in Pottawatomie County, Oklahoma in 1894, attended country schools and worked long hours on the family farm. From those humble beginnings, Mac also overcame several personal tragedies; he rose Horatio Alger-like to become one of the most distinguished political figures in Twentieth Century America.
Between 1936 and 1971, Ernest McFarland had the rare distinction across the United States of winning the triple crown of politics. He was elected to the U.S. Senate, where he became the Senate majority leader; Arizona's governor, and the state's chief justice of the Supreme Court. He shined in all areas, leading the effort to pass the federal G.I. Bill, the state's economic and environmental issues, and the court's Miranda decision to protect the rights of the accused to an attorney. His career certainly ranks him at the top of the many illustrious Arizona politicians of the 20th century.
You never have to meet Mac to know him. His inspirational spirit can be found in us all.  If you are ever to wonder "what it means to be American," just think of Mac. His moment in history is celebrated because his actions and efforts were decisively focused on building a better future. Mac's life story is a reminder to all Americans that our individual paths contribute to the greater good, and that through truth, justice, and love our future has an opportunity if we work together.