About AIM for the Mayor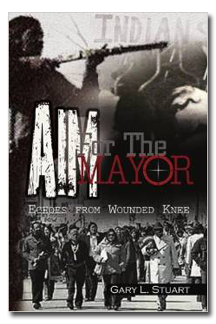 A young Indian activist resorts to violence in making his case for the mistreatment of Navajos in the so-called "Indian Capital of the World." He dies in a police shoot-out following his abduction of the mayor. Another activist shoots the mayor, who survives his wounds but soon suffers a stunning political defeat. This historical novel uses actual court documents, newspaper reports, and new in-person interviews to tell the tragically true 1973 story. The young Indian activists are seen through the eyes of three fictional characters: magazine editor Clay Ramsey, his anthropologist niece April, and her boyfriend Virgil Bahe.
Larry Casuse was a student leader at the University of New Mexico in Albuquerque, New Mexico with the potential to change his world for the better. His new friend, Robert Nakaidinae, was a follower. They saw the takeover at Alcatraz and the siege at Wounded Knee as heroic and historic. Frank Garcia, mayor of Gallup, and a Regent of the University of New Mexico, was a young, highly regarded leader on his way up New Mexico's political ladder. Garcia was abducted in his office at City Hall, and marched at gunpoint through the streets of downtown Gallup in broad daylight handcuffed with a gun to his head. The tragic connection between the Mayor and his captors appears, at first blush, to be obvious. However, the underlying causes in Wounded Knee turn out to be very different from those in Gallup. Moreover, both were very different from the reality of Alcatraz. All three were watershed events in the evolution of the Indian civil rights movement. The 1969 takeover of Alcatraz was nearly forgotten by 1973, when Indian warriors and their hostages collided far apart: Wounded Knee, South Dakota and Gallup, New Mexico. The tragic reality of how politicians and white citizens treat Indians on and off their reservations is the whirlwind that drives AIM for the Mayor.