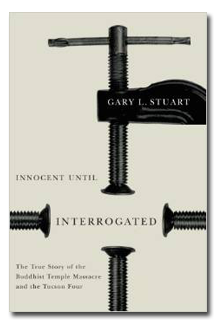 Innocent Until Interrogated
This book meticulously details Arizona's worst mass murder and the capital charges brought against six young men in 1991. Maricopa County Sheriff's deputies coerced false confessions from four of the six. The other two were juveniles. One of them "turned" on the other. Eventually, only Johnathan Doody went to trial. His partner in crime, Alex Garcia, pled guilty before trial to avoid a possible death penalty, and testified against his only friend. This book is the product of exhaustive research, the review, and digesting of thousands of pages of court documents, and hundreds of hours of interviews with suspects, lawyers, judges, and law enforcement personnel.
Written in gripping, page-turning novel format, the book recounts the events leading up to the slaying of nine Buddhist monks at Wat Promkunaram Buddhist Temple and a tenth murder of a young woman in a campground north of Phoenix, Both cases made nationwide headlines because of the botched investigations and the unjustified charges against innocent men. The text challenges the commonly-held belief that only guilty people confess. It explains in minute detail how hundreds of other suspects falsely confess every year in small, windowless interrogation rooms, under pressure from interrogators skilled at instilling hopelessness. Tag teams of deputies coerced the four young men who gave false confessions — called the Tucson Four by the media— for two full days before they collapsed and regurgitated what the officers had spoon fed to them about the murders. The Tucson Four were released from jail, never tried, and eventually won large civil settlements from the Maricopa County Sheriff's Office. Twenty years later an appellate court ruled that Doody's confession was also coerced, just like the Tucson Four. He won a retrial but was convicted a second time without his coerced confession.