About Miranda: The Story of America's Right to Remain Silent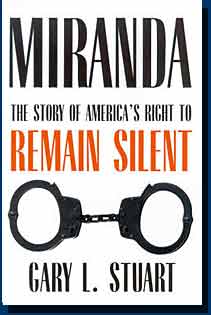 One of the most significant Supreme Court cases in U.S. history has its roots in Arizona and is closely tied to the state's leading legal figures. Miranda has become a household word; now Gary Stuart tells the inside story of this famous case and with it, the legal history of the accused's right to counsel and silence. Ernesto Miranda was an uneducated Hispanic man arrested in 1963 for a series of sexual assaults, to which he confessed within hours. He was convicted not on the strength of eyewitness testimony or physical evidence but almost entirely because he had incriminated himself without knowing it—and without knowing he didn't have to. A 1966 Supreme Court decision held that Miranda's rights had been violated and resulted in the now-famous "Miranda warnings."
Stuart knew nearly all of the figures involved in Miranda. Here he unravels its complex history, revealing how the defense attorneys created the argument brought before the Court, and analyzing the competing societal interests involved . He considers Miranda's aftermath and updates the story to 2004. The US Supreme Court struggled with the Miranda Doctrine for 50 years. Interviews with 24 individuals directly concerned with the decision—lawyers, judges, and police officers, and suspects, scholars, and ordinary citizens—offer observations on the case's impact on law enforcement and on the rights of the accused.
Ten years after the landmark decision, Ernesto Miranda was murdered in a knife fight at a Phoenix bar, his killer arrested by officers from the same police that had once arrested Miranda. That Miranda's killer was "Mirandized" and released before he could be charged attests to the significance of this landmark decision. Stuart examines Miranda's legacy and its fate in the twenty-first century as we face new challenges from foreign terrorists.
For more about Miranda, visit the website.