About The Gallup 14, A Novel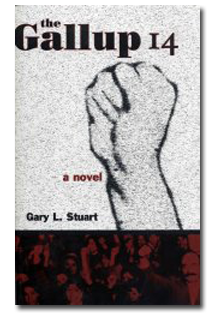 This historical novel chronicles a watershed legal case in New Mexico. Three men were killed, seven others wounded in an alley behind the court house in Gallup New Mexico. Because the local sheriff died in the gun battle, rough justice had to be served. The authorities lose no time in rounding up the usual suspects—Mexican immigrants and striking coal miners. Fourteen men went to trial on capital murder charges. Their conviction and execution by hanging seemed inevitable. They became the infamous "Gallup 14."
Based on a notorious case of political coercion in the 1930s, when fear of Communism led to the scapegoating of foreigners and union activists, The Gallup 14 uses the actual court documents and newspaper reports to tell the story. Two fictional characters are caught up in the rush to justice—Gallup lawyer Billy Wade and his schoolteacher girlfriend, Mary Ann Shaughnessy. Mass arrests, lineups, and brutal political pressure from local authorities form the backdrop to this powerful story of racism, exploitation, labor politics, and a fledgling legal system in rural New Mexico.
Gary Stuart divides his time between his law practice in Phoenix, Arizona, and writing in Placitas, New Mexico. He is a native of Gallup.
For more about The Gallup 14, visit the website.