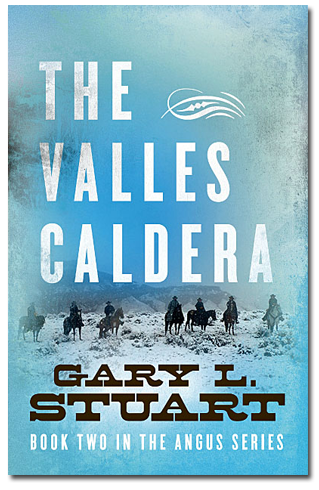 Book Two in the Angus Series, The Valles Caldera, is set in the high mountains and fast running rivers in Northern New Mexico. From the little village of Chama, down the Rio Chama to its confluence with the Rio Grande, Angus rides with his U.S. Marshal badge on his vest, a Colt .45 on his belt and a 30.40 Winchester in his saddle scabbard. His horse, No Mas, forded both icy rivers with considerable circumspection. On the way to Albuquerque, they pass by the Valles Caldera. More than a million years ago, a volcanic eruption created a 13-mile wide enclosed caldera filled with water fifty miles due west of Santa Fe. To get there you had to ride across the infamous M-Slash ranch dominated by a bad hombre called Mendoza Mendoza. On the ranch he was called El Patron. He was obsessed by machismo and sworn to kill the gringo lawman who dared to best his sons on Bernalillo's main street. Angus interrupted Mendoza's chest-pumping sons as they accosted a woman of the evening. Angus didn't know them and had never heard of their bandito father. He was not after Mendoza or his boys; he was investigating one of New Mexico's most famous legal cases—the hanging of Albuquerque Town Marshal Milton J. Yarberry in 1885. Yarberry, one of the state's most colorful historical characters, was hung by the "jerk method" in downtown Albuquerque. After witnessing that grim event, Angus meets Jill Garrison, a fictional character, who changes him in ways he could never have imagined. She was New Mexico's first female gunsmith and its first high-end shooting instructor.
High mountain peaks and volcanic ring fractures dominate the caldera. It became a life-sustaining place for generations of Indians, Hispanics, and Anglos. This novel ends with an epic horseback, galloping gun-battle between Angus and his posse hard on the trail of Mendoza-Mendoza and his boys on the rim of the Valles Caldera. They'd ridden all the way across the M-Slash ranch in mid-winter to the frozen upper rim of the Valles Caldera. There, gunfire rains down on the posse as Mendoza Mendoza takes his final revenge.
Reviews of The Valles Caldera
Review by Sean Reichard, New West, a digital guide to news, analysis, and culture for the Rocky Mountain region
Small Press Bookwatch (March 2016), Midwest Book Review:
Synopsis: In Book One in The Angus Series, "Ten Shoes Up" (9780986344107, $14.99 PB, $6.99 Kindle, 360pp), Angus came down off his mountain refuge, became a U.S. Marshal and rejoined civilization. That was in 1881. In Book Two, "The Valles Caldera", almost two years have passed when Angus gets another assignment. He's back in the saddle, riding the Rio Chama south to its confluence with the Rio Grande in New Mexico. "The Valles Caldera" is a pressure cooker novel set in New Mexico's Jemez Mountains. For millions of years the caldera escaped human notice. In the 1700s it sustained generations of Indians, Hispanics, and Anglos. It also became a perfect hideout for Mendoza Mendoza and his men. They hope to ambush Marshal Angus and his posse. But Angus and No Mas won't be stopped.
Critique: Once again author Gary L. Stuart has written a truly riveting western action/adventure novel that is a solid entertainment from beginning to end. Of special note are the descriptive action scenes and unexpected plot twists. Like "Ten Shoes Up", "The Valles Caldera" is very highly recommended for western fiction fans and community library collections.
Review by Dac Crossley on Amazon: "Real-life bad man Milton Yarberry served as the first Town Marshal of Albuquerque, New Mexico. Acquitted once for murder in Albuquerque, he was arrested for a second killing by (real-life) Sheriff Perfecto Armijo and was eventually hanged. These historic events are used as a plot device in Gary Stuart's novel The Valles Caldera. Our protagonist, US Marshall Angus Esparraza is sent down from Colorado to interview Yarberry before he is executed. Along the way Angus acquires a horse, 'No Más,' and a girl friend who's an expert with firearms. That's just as well, too, because she saves Angus' bacon. If this sounds a bit thin, you're right, but the writing is excellent and kept me turning the pages. Angus likes to ride the river banks instead of the trails, and he lectures to No Más in a most interesting manner. The New Mexico scenes are well done, in a different part of the State from the stories by Tony Hillerman. There's considerable discussion of firearms including the fictitious Buntline Special. Angus manages to irk the Mendosas, a family of ranchers who set out to murder him. Angus turns the tables. The Valles Caldera is book two in the Angus series. I look forward to more of Gary L. Stuart's stories."
Books and Benches review of The Valles Caldera
Review by Jeff Arnold of The Valles Caldera
Review by Pick of the Literate of The Valles Caldera
Review by The Long and Short Reviews of The Valles Caldera