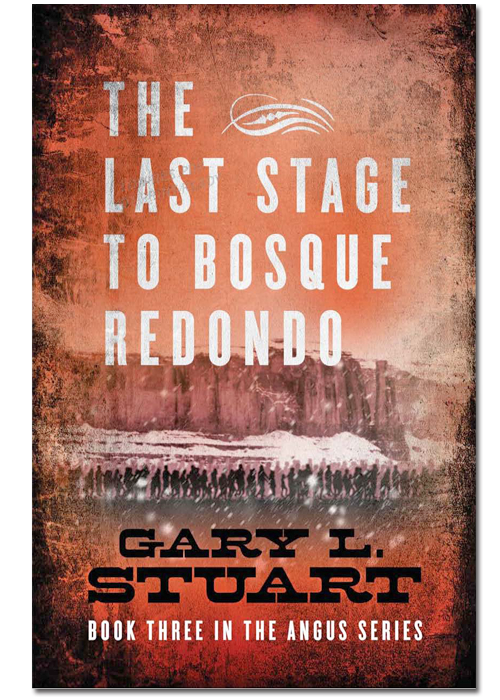 In Book One of this series, Angus is a New Mexico cowboy riding alone and hiding out on a mountain called Ten Shoes Up. He's known by his few friends as a loner who rides straight-legged, on a tall horse. He's always on the lookout and doesn't talk all that much. Men admire the way he sits a saddle and women wonder if he might dismount. In Book Two, Angus is a Deputy U.S. Marshal. He forms a posse to track down a bandito named Mendoza-Mendoza at the top of The Valles Caldera. He and the posse get ambushed and an epic gun battle ensues.
Book Three, another Angus adventure, is a historical novel, based on the true story of America's first all-Indian concentration camp. For centuries, the Navajo people had peacefully occupied ancestral, aboriginal lands in northwestern New Mexico and Arizona. In 1861, while the eastern half of the country was engulfed in the Civil War, the Navajos were decimated by the U.S. Army. Their goal: "Cut the Gordian knot with one terrible blow and wipe the whole Navajo nation from the face of the earth." The Army captured and marched 9,000 survivors, in the dark of winter, from Fort Defiance in Arizona to Fort Sumner in New Mexico.
Twenty years later, the passengers on The Last Stage to Bosque Redondo make the same trip.
They have a story to tell.
This is it.
Reviews of The Last Stage to Bosque Redondo
The Navajo long walk was an incredible story, and Stuart tells it well. His character Angus is a strong authentic man of the true old west. His respect for both the Hispanic people who felt threatened and conversely the Indian people who just wanted to live their lives creates a complex and thought provoking book. I am looking forward to the next Angus story.
This book takes historical facts and brings them together with Angus, our friend from the first two books. It is fascinating and informative while keeping the pace moving. I learned much more about the horrendous history of what happened to the Navajo people in AZ and NM between 1864 and 1868. Stuart brings the Smithsonian into the tale, and weaves a fictional account of a reenactment of the Long Walk to Bosque Redondo.
This is a wonderful western story with an interesting mix of history concerning the Navajo Indians and their interment in the 1860s in eastern New Mexico – a good read.
Gary Stuart is reviving a genre that was once great and will be again. I love the Angus character.